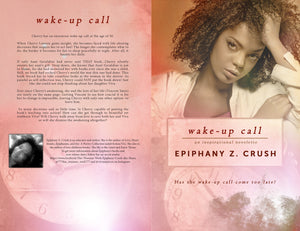 Cherry has an enormous wake-up call at the age of 30.
When Cherry Lawson gains insight, she becomes faced with life-altering decisions that require her to act fast! The longer she contemplates what to do, the harder it becomes for her to sleep peacefully at night. After all, it haunts her daily.
If only Aunt Geraldine had never sent THAT book...Cherry silently resents her aunt's gift. Deep down, she knows that Aunt Geraldine is not to blame, for she had showered her with books ever since she was a child. Still, no book had rocked Cherry's world the way this one had done. This book forced her to take countless looks at the woman in the mirror. As painful as self-reflection was, Cherry could NOT put the book down! Just like she could not stop thinking about her daughter Viva.
Ever since Cherry's awakening, she and the love of her life (Vincent Yates) are rarely on the same page. Getting Vincent to see how crucial it is for her to change is impossible, leaving Cherry with only one other option- to leave him.
So many decisions and so little time. Is Cherry capable of putting the book's teaching into action? How can she get through to beautiful yet stubborn Viva? Will Cherry walk away from love to save both her and Viva or will she dismiss the awakening altogether?
The sequel to Wake-up Call will be coming in 2023, so make sure you read this book first.
All of Epiphany's books are tax-free. Order now and receive Wake-up Call within 3-5 days.
Did you know that we provide complimentary gift-wrap for any purchase from our store? That's right. All you have to do is let us know that it's a gift and we will get the job done! You can message us on this website or via email at us. We can also be reached at the phone number listed above.
Author Epiphany Z. Crush wraps all gifts, and if you want to go with a different gift wrap paper, you can purchase one of ours and she will wrap your gift(s). Please see our gift wrap paper collection on our product page.