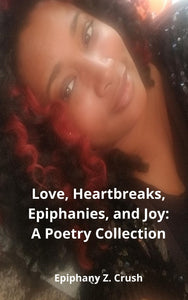 "Love, Heartbreaks, Epiphanies, and Joy" is a poetry collection that contains 81 poems about love... heartbreaks... epiphanies...and joy. These topics are very relatable to the majority of readers as many of us are dealing with or have dealt with one or more of them.  "Love, Heartbreaks, Epiphanies, and Joy" unfolds as it tells the story of the way love often goes. Some of the poems included are based on my own experiences of learning the hard way to love myself and learning how to remove myself from toxic relationships. The book's purpose is to help others; Also, to shed light on the meaning of love and how to obtain joy in our everyday lives. The poetry is uplifting and humorous. Some of the poems are melancholy, but those come before epiphany and joy make their way in. As the epiphany unravels, the words pull you in and lead you to joy. The topics are divided into four sections that will stay on your mind, encourage you, truly touch your heart, and impact your soul! Enjoy the ride!! Please note that it has been revised and thirty-six more poems for your enjoyment!
All of Epiphany's books are tax-free. Please allow 3-5 days for shipping.
Did you know that we provide complimentary gift-wrap for any purchase from our store? That's right. All you have to do is let us know that it's a gift and we will get the job done! You can message us on this website or via email at us. We can also be reached at the phone number listed above.
Author Epiphany Z. Crush wraps all gifts, and if you want to go with a different gift wrap paper, you can purchase one of ours and she will wrap your gift(s). Please see our gift wrap paper collection on our product page.