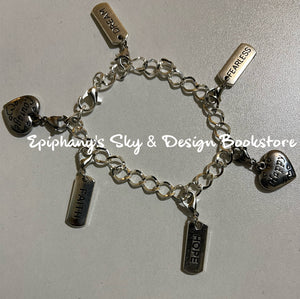 What do you get when you combine Heart-shaped Stainless steel clip-on heart charms with rectangular clip-on charms? You get INSPIRATION OVERLOAD BRACELETS by Epiphany Z. Crush. All charms have an inspirational word engraved on it, and each bracelet comes with SIX charms (two heart-shaped and four rectangular-shaped). The Engraved inspirational words: hope, believe, courage, best sister or happy, dream, cherish, wish, peace, love, WARRIOR, FOREVER, INSPIRE, WILLPOWER, HOPE, FAITH, FEARLESS, DREAM, GRACE, BEAUTIFUL, PROTECTED, MIRACLE, ENOUGH, FAMILY, TRUST, BLESSED, BRAVE, FOREVER, INSPIRE, WILLPOWER, IMAGINE, and FAMILY.
Charms will be randomly selected unless you request (6) specific words. For special word requests, please email Epiphany Z. Crush at EpiphanyCrush@gmail.com or call at 844-226-1449. Charms come on a 7 1/2-8 inch sterling silver plated charm bracelet. 
This unique bracelet is the perfect gift for charm bracelet/jewelry lovers, students, stocking stuffers, Christmas/Valentine's Day gifts, bridal showers, anniversaries, door prizes, birthday gifts etc. 
Did you know that we provide complimentary gift-wrap for any purchase from our store? That's right. All you have to do is let us know that it's a gift and we will get the job done! You can message us on this website or via email at us. We can also be reached at the phone number listed above.
Author Epiphany Z. Crush wraps all gifts, and if you want to go with a different gift wrap paper, you can purchase one of ours and she will wrap your gift(s). Please see our gift wrap paper collection on our product page.  


Please allow 3-5 days for items to be shipped.